For Gulf Islands Waterpark, Sensible's Weather Guarantee has increased guest satisfaction while decreasing refund requests.
During their summer season of 2021, Gulf Islands made Weather Guarantees available to all guests who booked their tickets five or more days in advance, and easily tied the offering into their existing online checkout process powered by Catalate.
As a result, Gulf Islands saw a 49% attachment rate for Weather Guarantees at their online point of sale over the course of the summer. They also saw a reduction in refund requests and on-property complaints due to weather, with less disappointed people standing at the customer service desk during the park's occasional summer storm.
Beyond happier customers, Gulf Islands also earned an additional margin on every Weather Guarantee sold—which helped pad their bottom line over the course of a busy summer.
Seamlessly add a Weather Guarantee
Gulf Islands encourages guests to plan their visit in advance, and to save time and money by purchasing their tickets through the park's website. This traffic has the option to add a Weather Guarantee with one click, and for a price that's an affordable addition to day tickets for the waterpark.
And because of Sensible's existing integration with Catalate, when Gulf Islands was ready to offer a Weather Guarantee, they were able to seamlessly turn on the option for their guests. Sensible takes care of all the offer details as well as managing the guarantee and reimbursements for guests.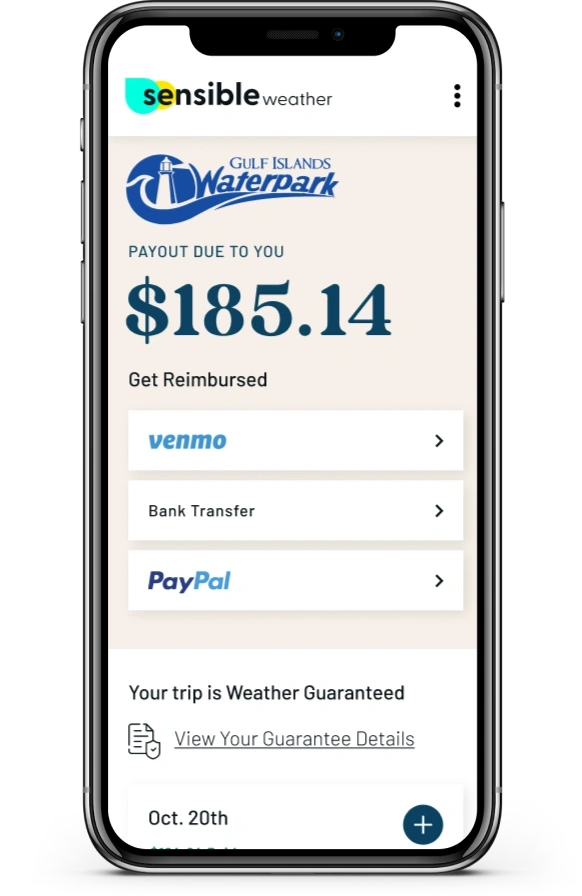 No more rain checks
Sensible monitors the weather forecast for all Gulf Islands' guests that have a Weather Guarantee with their ticket. Weather Guarantees are unique to locations and dates of a guest's experience, but generally reimburse based on two or more hours of forecasted rain. They can also cover temperature, wind, and other types of weather that could negatively impact experience.
We check the forecast one hour before the park opens, and if we see covered weather that will negatively impact the guest experience during park hours (9:00 a.m. and 4:00 p.m. CST), we automatically send guests an SMS message with a link to collect their reimbursement for 100% of their ticket cost.
Plus, the park doesn't close for rain, so guests can still get out and enjoy their day at Gulf Islands while it's not raining. When they do, they're showing up with more money to spend on concessions, souvenirs, or other adventures.
If guests have any questions about their reimbursement, then they can quickly reach a customer service expert at Sensible. The easy and automated user experience plus Sensible's support being readily available to customers means very few questions get asked about the Weather Guarantee at the customer service desk. It also means fewer guests lining up at the park's office to complain or demand ticket vouchers when Mother Nature won't cooperate. For both Gulf Islands and its guests, Weather Guarantees prevent the need for painful rain checks.
"The ability to offer our guests a rain guarantee further encourages people to buy in advance on our Cloud Store, locking in revenue for us, and offering the customer an avenue of protection from something no one can control. It's even better that it requires no work on our end or the customer's, and that neither party has to worry about the pains of a typical insurance claim."⁠
⁠- Mark Moore, GM, Gulf Islands Waterpark
Greater confidence to make reservations
Even when the temperatures and humidity in Mississippi are hitting summer highs, dark clouds and downpours are enough to make even the most excited patrons duck for shelter.
Our Weather Guarantee remains a straight-forward, affordable way for Gulf Islands' to give families peace of mind against the possibility of storms hanging over their day. Best of all, folks still get to enjoy the waterpark, even after they've received 100% of their ticket expenses back from Sensible.
And while getting a free rainy day isn't as sweet as a hot, sunny day at Gulf islands—it's a great way to make the most of a Mississippi summer rainstorm.
Weather Guarantees + Catalate