Sensible's API is an easy-to-use developer platform that allows our partners to integrate a Weather Guarantee at the point of sale for any outdoor experience. As a camping and glamping marketplace, Tentrr uses our public API to provide a valuable upgrade to campers when they check out—and increase the company's revenue with each new booking.
Weather Guarantees convert at a high rate, and are tailored to Tentrr's outdoor accommodations by our proprietary Climate Risk Platform.
Straight-forward and collaborative
When a camper is finalizing their online reservation, Tentrr calls the Sensible API with the location, dates, and cost of the reservation. In a fraction of a second, our API responds with a custom Weather Guarantee for that camper, including a dynamically calculated price and the relevant details. Tentrr then displays the Weather Guarantee to the camper alongside their reservation, and gives them the option to add it with a single click.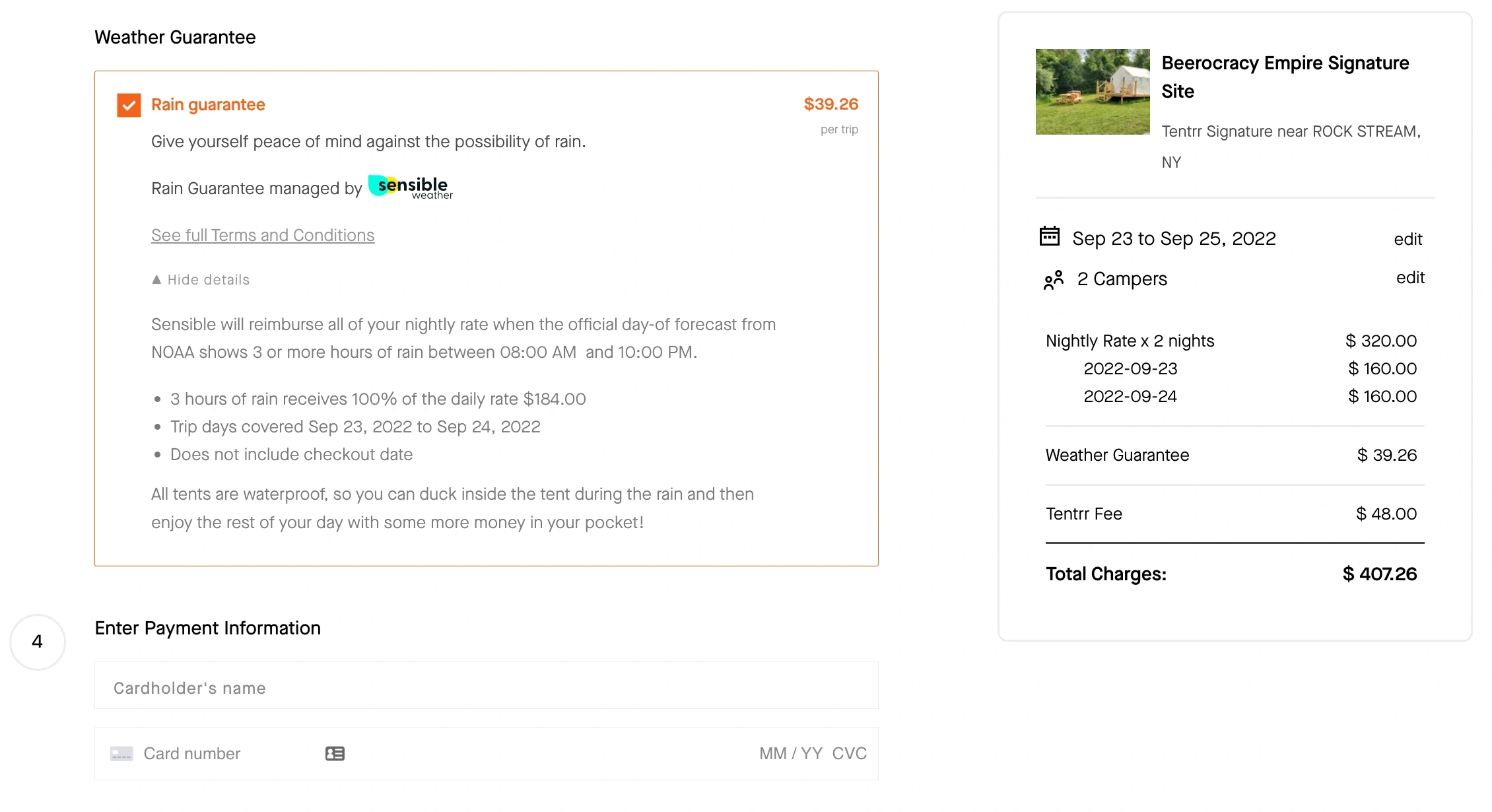 When a camper checks the box, Tentrr makes a second API request to let us know the camper booked with a Weather Guarantee—and that's it! We monitor the weather for the camper's reservation, and automatically issue co-branded notifications and reimbursement in the event of bad weather.
If Tentrr or one of their campers needs to make a change to an existing reservation, our API takes care of everything. We support all of Tentrr's updates and cancellation rules, and reservation changes are easy to update. It's a seamless user experience for both campers and customer support specialists at Tentrr. 
Offering a Weather Guarantee differentiates us while giving our guests a great experience. Sensible takes care of everything post-booking, including customer support, so our operations teams like them too!
- Todd King, CMO, Tentrr
A performant, developer-friendly platform
Sensible ensures that Tentrr's team never has to worry about the inbound requests or operational workflows associated with Weather Guarantees. From paying reimbursements to providing customer support, we handle all the details—and maintain sub-second performance on all API responses to ensure a frictionless checkout experience for every camper.
Our API is complete with detailed documentation, guides, and a sandbox environment—which makes it easy for developers to quickly build and test integrations. We only require basic trip information in order to build a Weather Guarantee, and it's a breeze for developers to integrate our API at any point in the checkout process. The API is quick to understand since it adheres to the REST API standards, and all endpoints are versioned and designed with developer ergonomics in mind.
Get access to Sensible's API and begin offering a Weather Guarantee
Our API documentation is located here!
https://sensible.readme.io/docs
Please contact our partnerships team to get access to sandbox, or to ask any questions about offering a Weather Guarantee to your customers. partnerships@sensibleweather.com