We're a Santa Monica-based group of climate scientists and weather nerds, so our team couldn't help but nervously watch California's recent brush with Tropical Storm Kay.
Approximately 130 miles off the coast of San Diego County, the storm was still registering as a hurricane—which represents the closest approach a hurricane has ever made toward Southern California from the Pacific. A more common pathway for such storms is to follow the considerably warmer waters in the Sea of Cortez northward into the Gulf of California and then dissipate quickly as monsoon rains over the Sonora Desert. Occasionally (and with help from high pressure over the desert region), these storms can turn northwest at the culmination of the Sea of Cortez and cross over the Baja Peninsula toward the Southern California coast.
Before last week, only six hurricanes and one other tropical storm had come within 200 miles of SoCal since record-keeping began in the middle of the 20th century. Each of these storms occurred in August or September, and each was downgraded from its status as a hurricane before making landfall. The most recent close call occurred in 1978 when Hurricane Norman dissipated before traveling directly over Los Angeles.
Like each of the state's previous close calls with a hurricane, Tropical Storm Kay originated along the Pacific Coast of Central America. Atmospheric troughs bring humid, tropical air across Oaxaca from the Gulf of Mexico, mixing with the warm water along Mexico's Pacific coast and setting large storms in motion. From there they rumble northwest—bringing flooding, mudslides, and powerful winds to both Baja California and the Mexican mainland.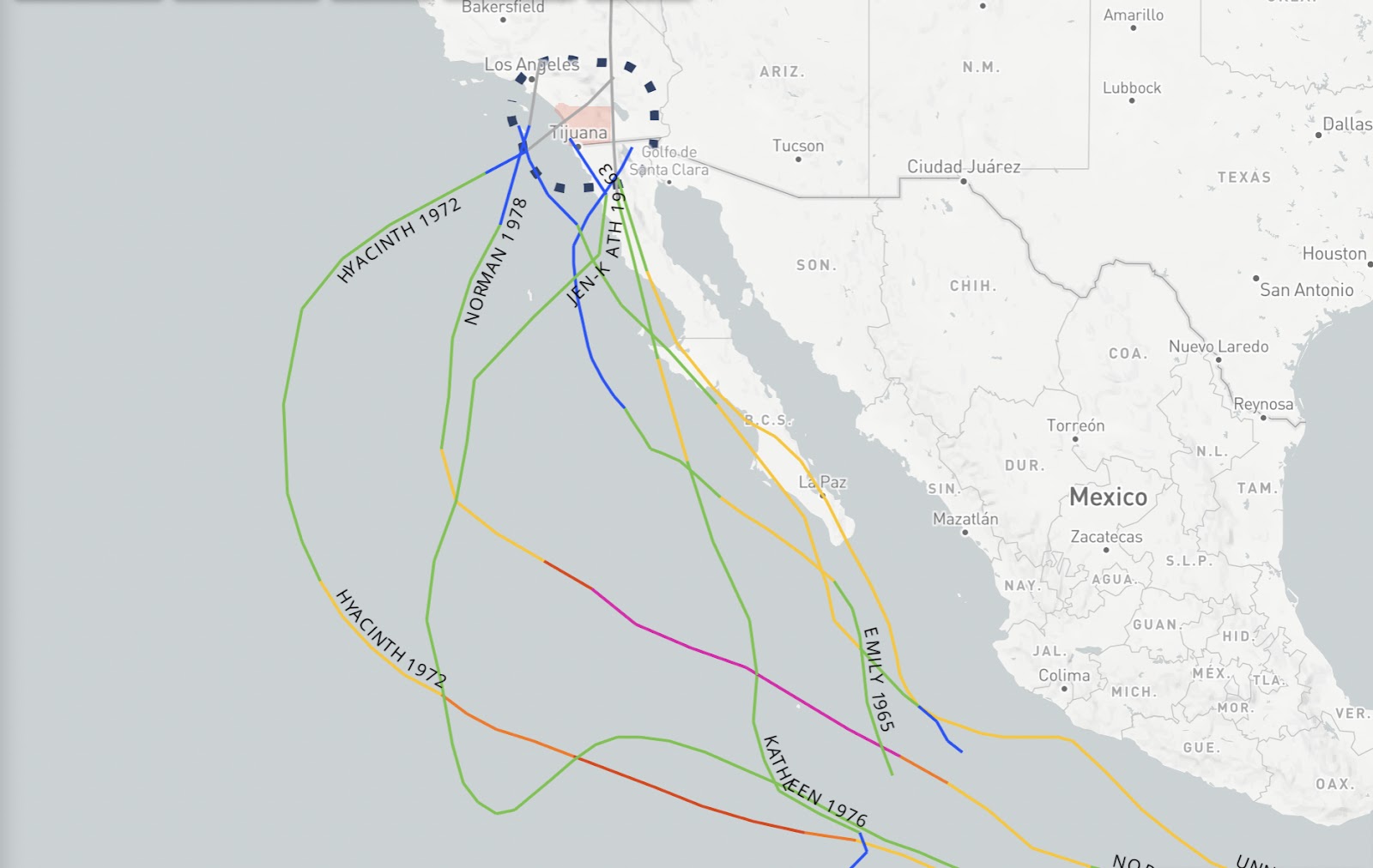 Tropical Storm Kay
Prior to the arrival of last weekend's storm, September had already seen some unusual weather near Sensible's Santa Monica office. This included record heat in LA (102°F) on Friday, topping the former daily high for September 9th by 6°F. A persistent heat dome over inland California produced record temperatures as far north as San Jose and Sacramento, and an Energy Emergency Alert went into effect for the state several days before Kay arrived. Meanwhile, coastal water temperatures hovered around ~80°F, and moderate to extreme drought gripped virtually the entire state.
Then, starting on Friday, it rained. A lot.
Record rainfall and winds followed the record heat of the preceding week, drenching the previous records in the city of San Diego and many other locations throughout San Diego, Riverside, and Los Angeles counties. Mt. Laguna, a 6000' peak east of San Diego, recorded 5.60" of rain between Thursday and Sunday. Lake Cuyamaca received four times its previous record for rainfall on September 9th for a total of 2.03", and nearby Cuyamaca Peak recorded a 109-mph gust of wind.
In the lowland, 30-50 mph gusts briefly knocked out power for ~30,000 Californians, and burn scars from last year's wildfires east of San Diego exacerbated the flash flooding caused by the storm's torrential rain. Precipitation then continued inland Saturday to set off flash flooding and flash-flood warnings in parts of Arizona, Nevada, and New Mexico.
Overall, California's troubles paled in comparison to the storm's impact on Mexico, where rainfall totals were dramatically higher and at least three people were killed.
What's different about this year's storm
In part, Kay was able to travel so far north because of the heat dome that formed over California in the weeks leading up to the storm. 
This heat provided enough convection and energy to keep the storm's track moving northward toward California, rather than following the water temp gradient westward toward deeper waters in the Pacific.
Mexico will continue to bear the brunt of these powerful storms—in a region of the country that's seen rapid development and a huge influx of international tourism over the past twenty years. Especially in Baja California Sur, American and Canadian investment in vacation homes and picturesque seaside villages has skyrocketed, with the city of Cabo San Lucas hosting approximately three million tourists per year.
And as a result, in the dwindling weeks of each summer, the risks of Pacific hurricanes to both life and property seem destined to grow.